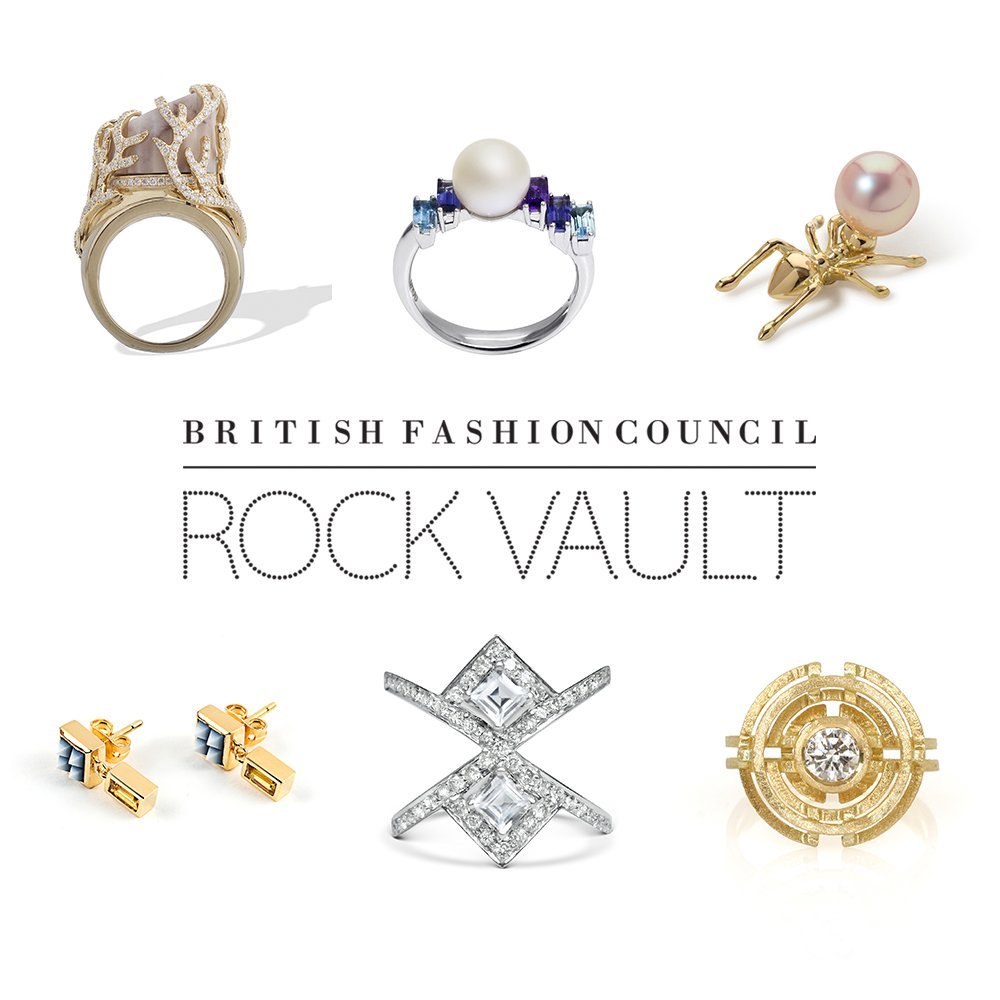 THE BRITISH FASHION COUNCIL ANNOUNCES NEW ROCK VAULT LINE-UP
The British Fashion Council (BFC) is pleased to announce the six Rock Vault jewellers who will display their latest collections during London Fashion Week September 2016. The jewellers will showcase their work in an installation in the Designer Showrooms at Brewer Street Car Park.
For 2016/17 new recipients Daou Jewellery and Frances Wadsworth Jones join existing Rock Vault designers COMPLETEDWORKS, Lily Kamper, Rachel Boston and Shimell and Madden.
Curated by Stephen Webster MBE, this unique showcasing initiative was established by the British Fashion Council to nurture the creative fine jewellery talent based in the UK. It gives these designers the opportunity to further develop their businesses, as well as increasing their exposure to both UK and international media and retailers. For the past four years Stephen has taken the Rock Vault designers with him to showcase at the prestigious COUTURE Las Vegas show. Caroline Rush CBE, Chief Executive, British Fashion Council commented: "The continued success of past and present Rock Vault designers both at home and abroad speaks to the achievement of this initiative. Under Stephen's guidance the Rock Vault initiative really nurtures the undeniable talent of each season's recipients. I'm confident that those designers graduating this September will continue to impress us, and I'm eager to shine a spotlight on the talents of our new and returning designers over London Fashion Week."
Stephen Webster MBE commented: "2015 saw the last of the founding designers of Rock Vault graduate. The five new designers gave press and buyers plenty to write about and to buy at this year's COUTURE show in Las Vegas and the show concluded with two of last year's graduate designers winning awards at the highly prestigious and competitive COUTURE awards. This year with just two places to fill from a total of 25 applicants, the panel spent the whole day inspecting and discussing each designer's presentation but the final decision was unanimous. The work of both Dalia Daou and Frances Wadsworth Jones is original, inspired and full of potential for great things ahead, contributing to the diversity and excitement now synonymous with Rock Vault."
The Rock Vault selection panel is chaired by Stephen Webster MBE and comprises: Anna Orsini, British Fashion Council; Carol Woolton, British Vogue; Caroline Broadhead, Central Saint Martins; Charlotte Whitehead, British Fashion Council; Hannah Almassi, Who What Wear; Jo Newton, Fortnum and Mason; Jos Skeates, EC One; Julie-Anne Dorff, Harper's Bazaar; Laura Muscat, Rainbowwave; Maia Adams, Adorn Insight; Maria Doulton, The Jewellery Editor; Matthew Waters, M Agency; Mia Fenwick, Fenwick; Michelle de Conto, British Fashion Council; Natalie Kingham, Matches; Ruby Chadwick, Liberty; Shaun Leane, Shaun Leane and Simon Longland, Harrods.