Daou jewellery creates luminous jewels which blur the boundaries between contemporary and classic
Created by award winning, third-generation jewellery designer, London born, Dalia Daou. Daou means 'light' and is a touchstone for designs which play with its literal and emotional interpretations to create jewels from statement poetic pieces to meaningful delicate collections. Dalia's work is informed by an education in gemology, physics and art, and a lifetime's familiarity with fine jewellery. With inspirations drawn from science and geometry, art and femininity and selected influences refreshed from a timeless Daou design archive.  
Dalia is reviving the glamorous international legacy of her family jewellery tradition. A history from the 1930s, '60s and '70s, which saw Daou honoured by a Royal appointment, and chosen by such celebrated clients including Princess Grace Kelly and Brigitte Bardot. Desired for exceptional designs ahead of their time, such as the ring formed of Moon rock from the Apollo II Moon landing.
Her Majesty The Queen of England, Elizabeth II, viewed Daou jewellery and met Dalia Daou at London Fashion Week February 2018. Dalia was invited by international VOGUE editor Suzy Menkes to speak at the Conde Nast International Luxury Conference on Mindful Luxury; has won the New Designer of the Year 2016 at the UK Jewellery Awards; and a place on the British Fashion Council's Rock Vault. Daou has been featured internationally in such publications as VOGUE, TATLER, GRAZIA, Wallpaper*, and COUNTRY & TOWNHOUSE.
Collections include statement poetic jewels and playful delicate jewellery pieces, as well as bespoke designs for engagement rings, wedding rings, special occasions and men's jewellery. 
For enquiries please contact daliadaou@daoujewellery.com
Read on for an illustrated history timeline since 1930…
1930 – Daou Part I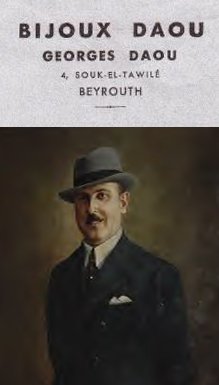 Georges Daou opens BIJOUX DAOU in the 1930s.
1964 – Daou Part II
A.G. Daou, Georges Daou's son, opens his first boutique in a prime location on Avenue des Français, a beautiful wide boulevard by the coast often referred to as the Bond Street of Beirut.
1965 – Daou Designs
Daou designs have been sought after for their beauty, colour, life and innovation; inspired by nature, colour and form for three generations.
1966 – Daou Royal Appointment
The Royal appointment of Daou jewellery to King Hussein of Jordan.
1966 – Daou Boutique
Queen Elizabeth II is gifted with jewellery by Daou.
1967 – Brigitte Bardot at Daou
Brigitte Bardot visits the Daou boutique.
1967 – Daou Rosary for Pope Paul VI
The gift of one of two large scale decorative rosary crosses for His Holiness Pope Paul VI created by A.G. Daou, presented by Lebanese President Charles Helou in a private audience granted at the Vatican in Rome.
1969 – Apollo XI Moon Rock Ring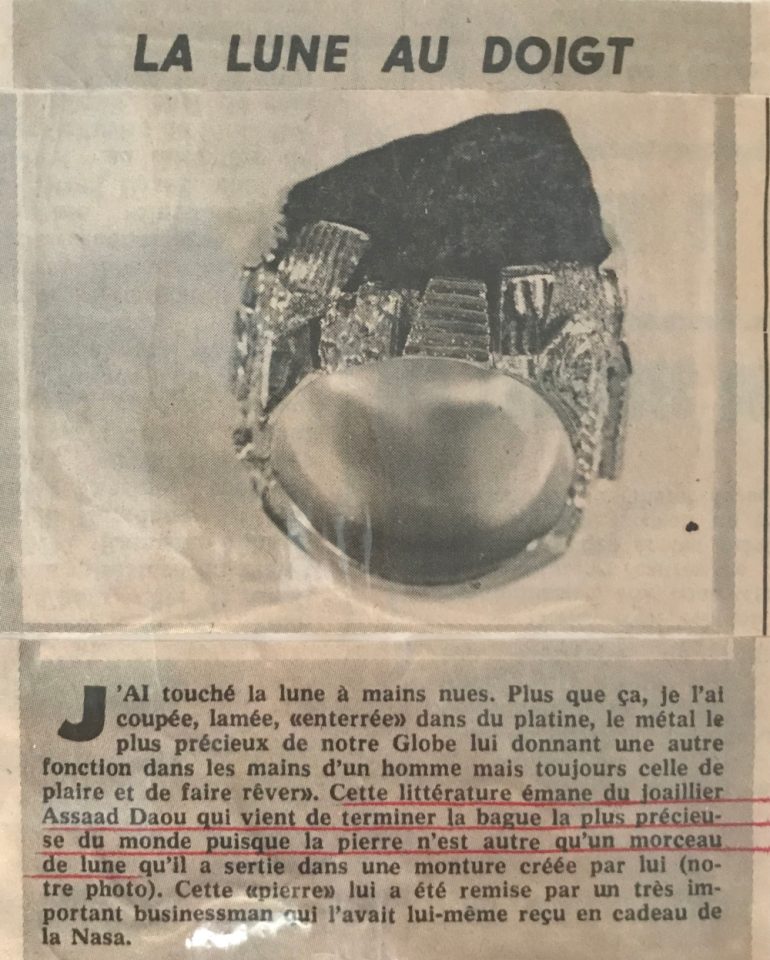 Moon Rock Ring by A. Daou made from a piece of the Moon brought back to Earth by Apollo 11. The press cutting reads… "I touched the moon with bare hands. More than that, I cut it and encased it in platinum, the most precious metal of our globe, giving it another function on the hand of a man, one that will always please and cause to dream.' These words emanate from jeweler Assaad Daou who has just finished the most precious ring in the world since the stone is nothing other than a piece of moon that he has set in a mount created by him (our photo). This 'stone' was handed to him by a very important man who had himself received it as a gift from NASA.'
1972 – Daou for Princess Grace of Monaco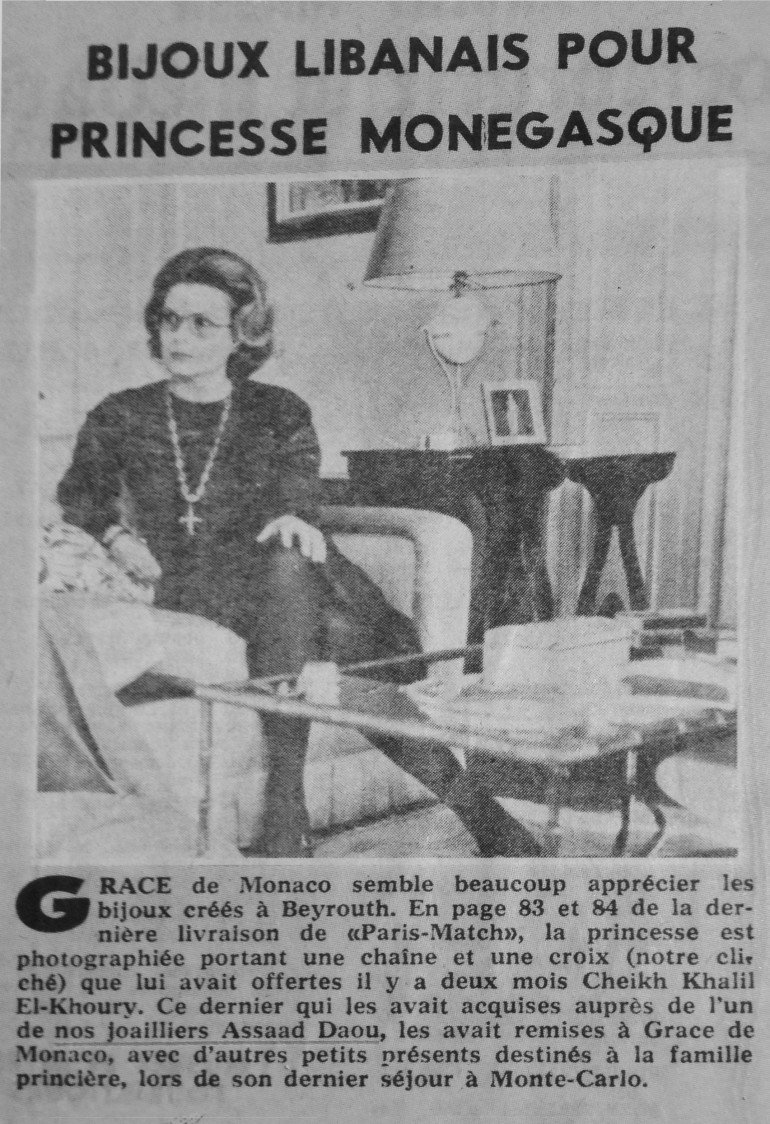 The Princess of Monaco, Grace Kelly, wears Daou jewellery.
1976
The second year of the Lebanese Civil War (1975-1990) claims the illustrious Daou boutique in the heart of Beirut.
1977
A.G. Daou moves to London after being appointed the managing and creative director of Chaumet on Bond Street, London.
2013 – Daou Third Generation
Dalia Daou trains in jewellery techniques and processes in London's Hatton Garden,  Holts Academy of Jewellery and at Central Saint Martins.  As well as gemstone studies at the  Gemological Institute of America.
2015 – National Association of Jewellers
Daou Jewellery and Dalia Daou receive Membership to the British Jewellers Association later renamed the National Association of Jewellers, a mark of trust and quality.
2015 – International Jewellery London Design Commendation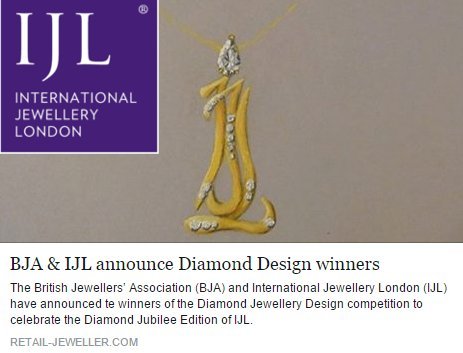 Daou Jewellery exhibits at International Jewellery London in the Designer Gallery, securing a number of new stockists and this Daou pendant design is Highly Commended in the BJA IJL 60 points for 60 years Diamond Design competition.
2016 February – London Fashion Week debut
Daou Jewellery presents new collections at the official London Fashion Week British Fashion Council Designer Showrooms. www.londonfashionweek.co.uk Read more here on the blog.
2016 June – Winner UK Jewellery Awards
NEW DESIGNER OF THE YEAR – UK JEWELLERY AWARDS Dalia Daou, Daou Jewellery has won New Designer of the Year 2016 at the prestigious UK Jewellery Awards. 'Judges agreed that this winner deserved recognition for their cohesive collections, sound growth plan and creative eye resulting in designs which are both striking and commercial.' said celebrity presenter Gethin Jones at the London Hilton, Park Lane. Ruth Faulkner editor of Retail Jeweller, organisers of the UK Jewellery Awards the most admired and relevant awards in the jewellery and retail industry, said: 'A huge congratulations to all of our finalists and winners. Competition this year was extremely tough and to be crowned a winner shows you really are the best at what you do.'
2016 August – British Fashion Council Rock Vault Selected
Daou selected for BFC ROCK VAULT Daou is one of two new designers to join the 4 members of the prestigious British Fashion Council fine jewellery initiative ROCK VAULT created with Stephen Webster. The first event as part of Rock Vault will be the showcase at London Fashion Week in September.
2016 September – Hot 100
Dalia Daou is awarded a place on the Professional Jeweller Hot 100 roster of jewellery industry players making waves in 2016. This makes a hat trick of awards for Daou Jewellery in 2016.
2016 September – Showtime
Daou Jewellery shows at both International Jewellery London and London Fashion Week for the second time. Showcasing with a higher profile and and presenting key pieces as well as the new Phoenix collection. For more images see the News coverage here. 
2016 November – Phoenix Collection of the Year Finalist
The new Phoenix jewellery collection is shortlisted as a finalist for the Collection of the Year 2016.
2017 February – London Fashion Week Rock Vault
Daou Jewellery shows at London Fashion Week as part of the British Fashion Council Rock Vault fine jewellery selection. Presenting key pieces and telling the heritage story through designs. For more images see the News coverage here. 
2017 April – Conde Nast International Luxury Conference Speaker
Dalia Daou, Daou jewellery designer is invited by Vogue International Editor Suzy Menkes to speak at the Conde Nast International Luxury conference in Muscat Oman among many illustrious luxury industry players from group CEOs to creative directors and couture designers of the world's largest designer brands. Read more in the press coverage here and image gallery here. Truly an honour.
2018 February – HM The Queen
Her Majesty The Queen is pictured talking to Dalia Daou as she presents her jewellery at London Fashion Week 2018. The Queen complimented Dalia's designs 'How lovely!' and Dalia told Her Majesty of how Daou jewellery is in The Queen's own collection commissioned as a gift presented on a state visit in the 1960s. See earlier in the timeline and more about The Queen's visit here. The British Fashion Council hosted Queen Elizabeth II at the Designer Showrooms and Richard Quinn fashion show for the Queens Award.
2018 April – Liberty London
Proud to announce Liberty London now stocks Daou jewellery within its exceptional renowned jewellery hall. Please visit the beautiful department store between Regent Street and Carnaby Street in London's West End to see and shop the collection edit. Read here for the Liberty introduction to Daou jewellery in their magazine, client email and online shop.