Sunset Sunrise Bright Ring
The Morning Bright jewels are created in a harmonious palate of faceted stones, set in such a way at different heights to let light in and diffract all the colours within. In white gold to highlight the cool brightness of the dawn and dusk.
Sapphire 5mm round yellow 0.65ct,
Amethysts, Pink Tourmaline, Iolite, Blue Topaz Baguettes 12 each 6×3mm, total of 4.5ct.
White Gold solid 18k. Hallmarked with the Daou name, by Goldsmiths Hall in London.
Made by hand, in Italy.
Ring design measures 2.4 × 1.6cm.
Ring size 56, P – and will be adjusted to desired size on request.
A modern impressionist collection evoking the intangible colours, energy and light at Sunset and Sunrise. Illustrated with a vibrant variety of beautiful gemstones, specially hand selected and arranged with multi-dimensional angles to catch and refract the myriad light, so to represent the emotive dawn and dusk. Inspired by long distant evenings and nascent early mornings, by magical travels, by the impressionist masters and by a love of gemmology. Designs to reflect the striking colours and the glow of energy sensed at Sunset and Sunrise in a harmonious palate of cool clear vivid hues and a golden fusion of rich warm tones.
Additional Information
| | |
| --- | --- |
| Jewel Type | Rings |
| Collections | Sunset Sunrise |
| Colour | Blue |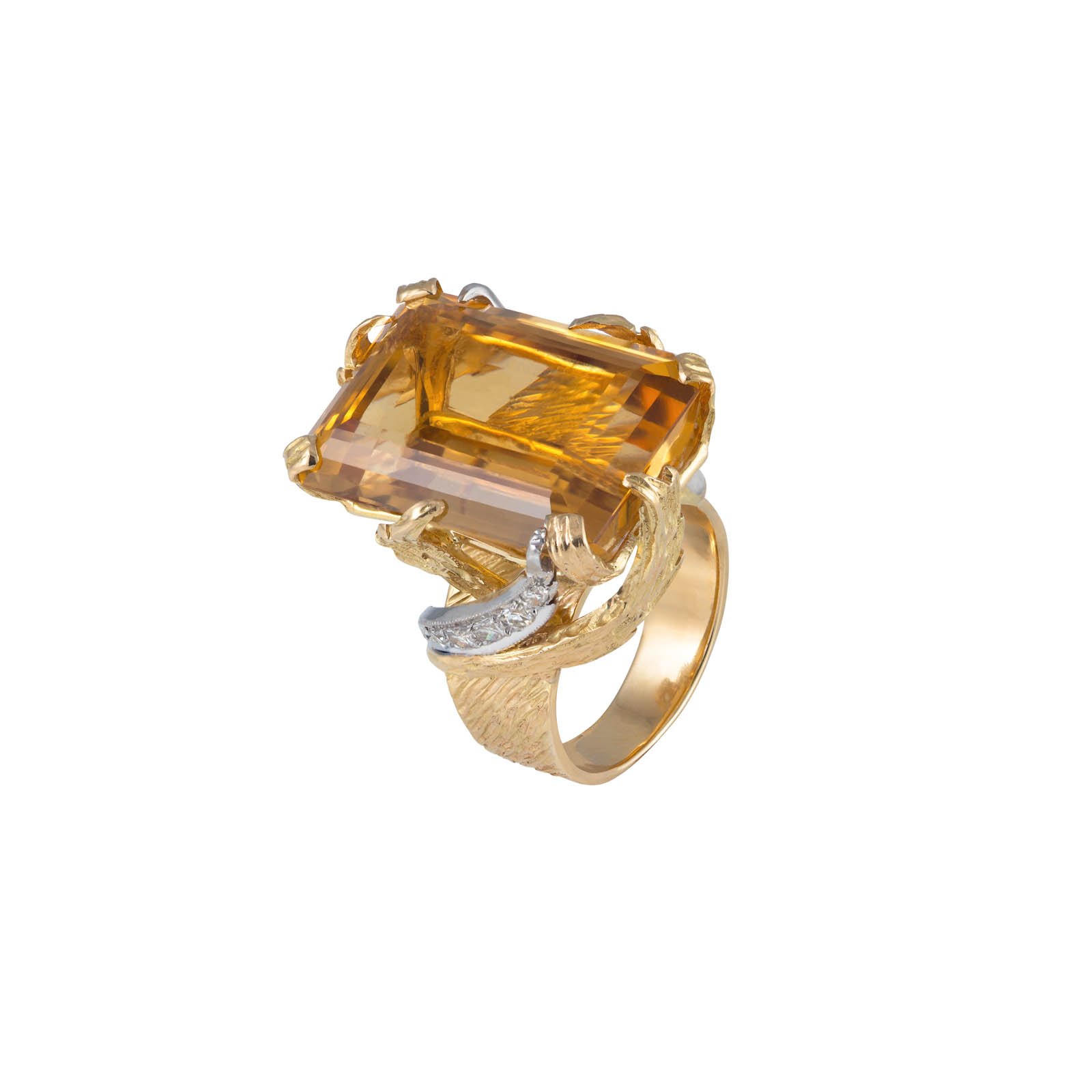 Quickview
Phoenix, Rings
A reinterpretation of a heritage piece from the Daou archives this cocktail ring is available as a handmade commission and can also be made with any preference of gemstones. The design picks up on Daou signatures that made the brand so sought after in the 60s and 70s. The lively and unexpected feather forms wrapping around an emerald step-cut honey gold citrine 18 carat gemstone accented by diamonds set in yellow and white 18 carat gold and textured handwork are all distinct details adding to this stunning cocktail ring. The cocktail ring reflects both the modern designs seen in the Sunset Sunrise collection and the heritage inspirations for the Phoenix collection which tells the story of the revival of the Daou jewellery house using references to the archival designs reinterpreted in new designs to continue the artistic sensibilities of the Daou legacy. Please be in touch to learn more about this piece and to discuss a commission.
contact@daoujewellery.com
£

6,500.00