Golden Hoop Earrings
The Golden aura of graduated baguette gemstones in the hoop earring is heightened by the perfect setting to allow light to refract through creating flashes of beautiful colour. The setting extends to the back of the hoops which show the stones facing forward inside. In yellow gold to highlight the golden warmth and flame like flashes of the sunset and sunrise.
Citrine graduated baguettes total of 7.90ct.
Yellow Gold solid 18k. Hallmarked with the Daou name, by Goldsmiths Hall in London.
Made by hand, in Italy.
Pierced ear fastening.
Hoop measures 3cm across diameter.
A modern impressionist collection evoking the intangible colours, energy and light at Sunset and Sunrise. Illustrated with a vibrant variety of beautiful gemstones, specially hand selected and arranged with multi-dimensional angles to catch and refract the myriad light, so to represent the emotive dawn and dusk. Inspired by long distant evenings and nascent early mornings, by magical travels, by the impressionist masters and by a love of gemmology. Designs to reflect the striking colours and the glow of energy sensed at Sunset and Sunrise in a harmonious palate of cool clear vivid hues and a golden fusion of rich warm tones.
Additional Information
| | |
| --- | --- |
| Jewel Type | Earrings |
| Collections | Sunset Sunrise |
| Colour | Yellow |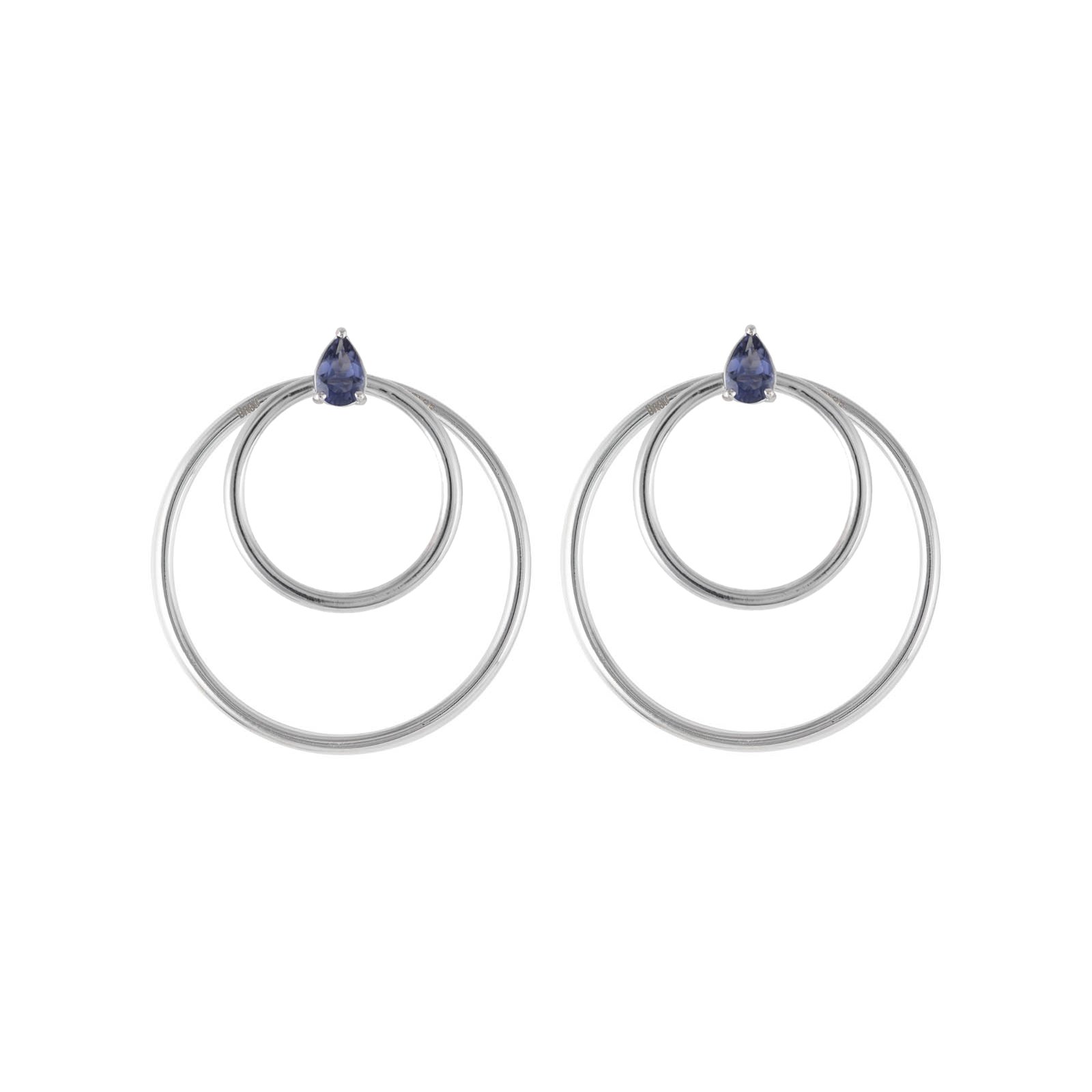 Quickview
Earrings, Quanta, Valentine's Day Gems
Iolite and white gold small front facing hoop earrings and the Large Orbit Hoop Multiplier earring jackets sold as a set. Simple chic earrings set with pear cut iolite gemstones in 18 karat white gold. Perfectly geometrically balanced, elegant and flattering. This set of the small Orbit hoop earrings and the large hoop earring jacket created a stunningly enhanced look when worn together to create a bolder elegant large double hoop earring as pictured. A fashion favourite as seen in VOGUE and elsewhere. Our hoop earring multipliers are designed to create new variations of earrings from any pair of pierced earrings and work with your own earrings collection. Quickly and cleverly doubling your earring wardrobe creating brand new larger earrings by slipping onto the bar fastening. White Gold, 18k solid, 5.5g and 9g. Iolite 2 pear 6x4mm, 0.6ct. Hoop diameter 2cm and 3.5cm. Bar pierced ear fastening. Large hoop slides on to the bar of any pierced earring in-front or behind the earlobe.
£

1,235.00